Back in high school I was never much good at art, or drawing, or painting but I sort of liked it anyway. I'd transferred at the start of year 9 from a school with a poor art budget to a school with a good budget. Alas I'd missed the first two years where they had the facilities to try many different ways of creating art. So I stuck with painting and tried a little sculpture and managed to scrape through.
At the end of year 10, there was the opportunity to try new stuff as it wouldn't count toward the final mark. I'd recently seen a display of work of the senior years that included someone who'd worked with ink via dipping nibs in ink wells. So I gave that a go and really enjoyed it, and my art teacher said I had a good sense of humour and the right approach to the work. She commented that at last we'd found an art form that I was good at, albeit a little too late. I might see if I can dig out some of those attempts later in June.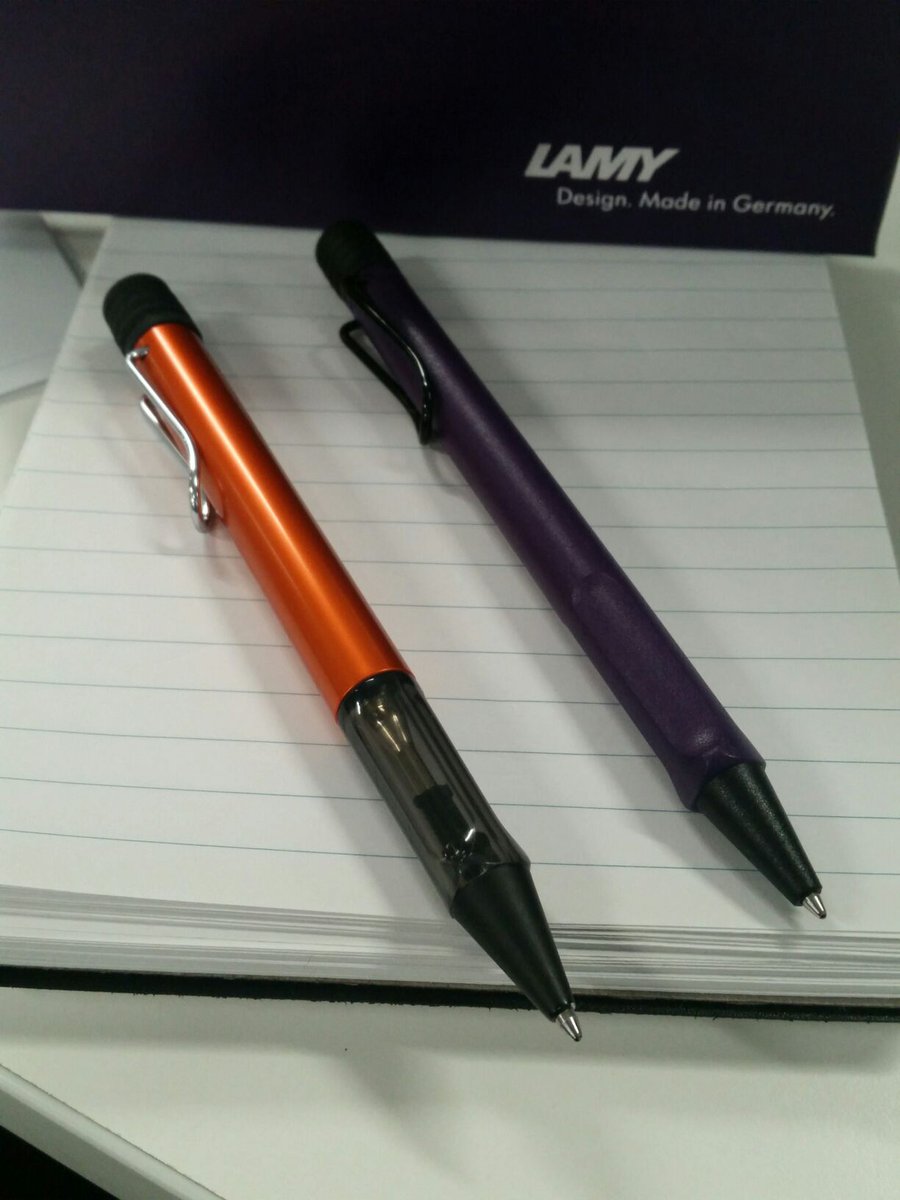 I've always meant to get back to it and give it another go. When I was in Paris in 1999, I even picked up some nice nibs and paper hoping to get round to it eventually. A few years after dad died, I did actually sit with a quill and ink and write a letter to one of his friends. However I've done nought else. At least in part due to the fact that I rarely use pens anymore, and increasingly dependent on keyboards. I have mostly lost the motor skill for handwriting.
My current job is rather paper and pen based so I've had to do a lot more writing and last year, after a tweet from Con, I picked up a nice Lamy ballpoint in a lovely orange. I have often been impressed with Con's fountain pen collection and recently decided it was time to bite the bullet and get one myself.
Lamy have a new colour this year, a fabulous deep lilac. I bought the ballpoint but it was a different shape to the orange Lamy, a little narrower. I saw a couple of tweets from other Perth friends who decided to buy the Lamy fountain pen starter set and I thought why not. So I did, and so far so good. It's been very easy to write with, has the right sort of feel in the hand and flows across the page. I'm impressed with the speed at which the ink dries: mere seconds. As you can see below, my initial attempts include a mix of words, doodles, and a few faces. I have even started using it for notes at work.